All students who are interested in being a member of the Miramar Solider Band are welcome! In preparation for the 2017-18 school year, students and parents should ensure that when registering for classes, band is on their schedule. Attending both weeks of the Band Camp is required for all students who plan on being in the Marching Band, as well as performance that might be scheduled during camp.

BAND CAMP SCHEDULE
Week 1 ~ August 7th- 10th ~ 9am to 6pm
Week 2 ~ August 14th- 17th ~ 9am to 6pm

Wednesday, August 16th- Freshman Orientation
Report time 8am - Camp concludes at 6pm

Friday, August 18th- Pre Season Football Game (Home)
Report time TBA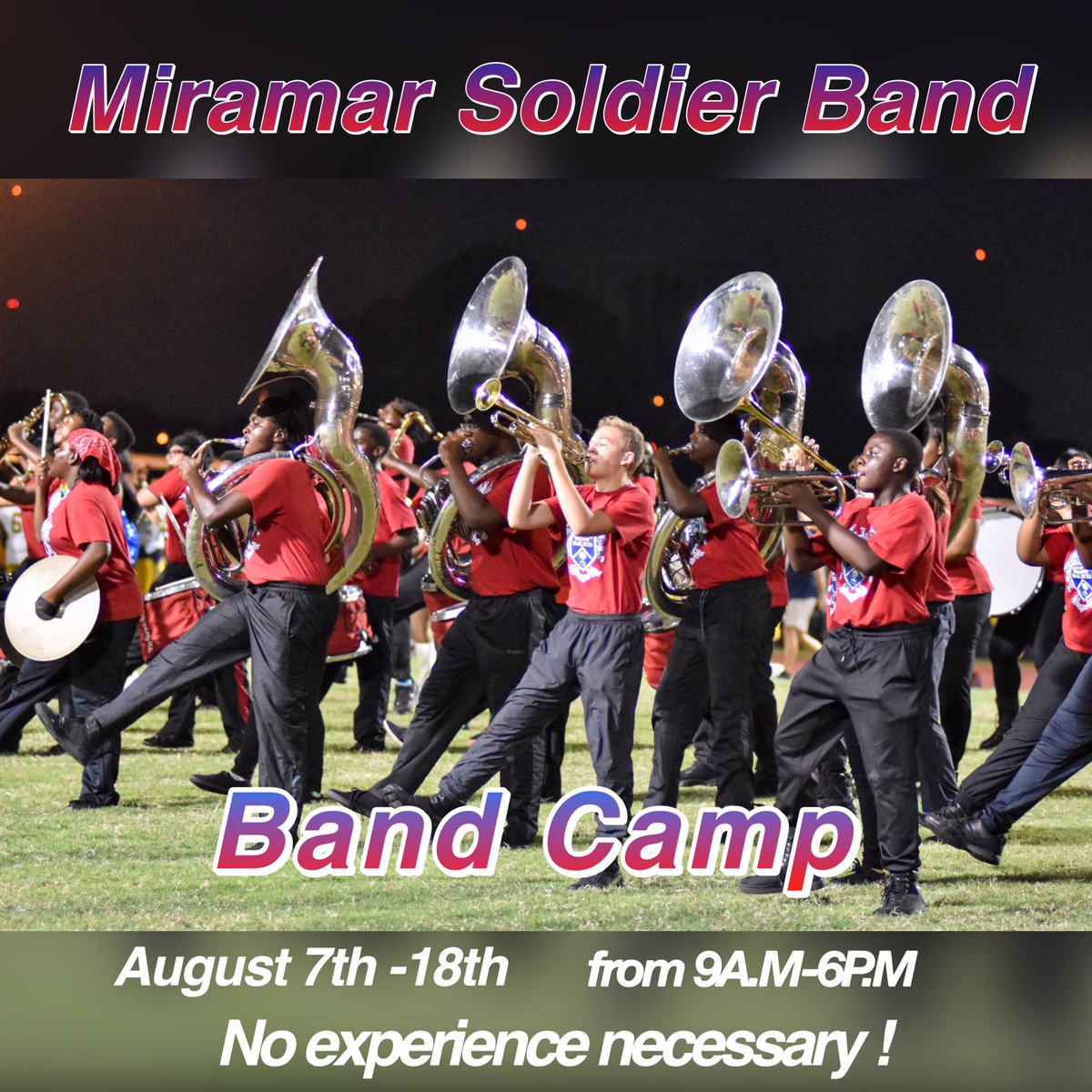 FREQUENTLY ASKED QUESTIONS!

WHAT IF I'VE NEVER PLAYED AN INSTRUMENT?

It doesn't matter! We will teach you! Come to band camp and get a head-start before school starts! Make sure you are enrolled in a band class during the school day. Contact Mr. Rodriguez for more information.

WHAT SHOULD I WEAR?

Students should wear a hat, white T-shirt, comfortable shorts or sweat pants, tennis shoes, and socks. NO JEANS OR SANDALS!

WHAT SHOULD I BRING?




Sun Screen and Water!! Also, Bring your instrument and any instrument accessories that you will need, including but not limited to: Reeds, Mouthpieces, Ligatures, Sticks, Straps, Valve Oil, Key Oil, Tuners, Cleaning kits, etc. Instrument rental is available for band camp and the school year at $20 per instrument.

WHAT TIME IS LUNCH?
Lunch is from 1pm to 2pm every day! You can bring your own lunch, have lunch delivered, or purchase from the Band Boosters. STUDENTS ARE NOT ALLOWED TO LEAVE CAMPUS!


CAN I LEAVE CAMPUS & COME BACK DURING LUNCH?


NO! Once students are on campus, they must remain on campus until dismissal.

CAN I JOIN THE DANCE, MAJORETTE, OR FLAG TEAM?

Unfortunately no, we hold our try-outs for these groups in the Spring and we have already selected individuals for this group for the upcoming 2017-18 season. We encourage those that are interested to still join band, learn to play an instrument and audition in the Spring! You will benefit and truly enjoy a year as an instrumentalist!

I AM A PARENT AND I WANT TO HELP, HOW CAN I GET INVOLVED?

Parents are EXTREMELY VITAL to the success of the band program! Volunteering, chaperoning, or just supplying water bottles- EVERYTHING COUNTS! Check out our band booster tab for more information on how to get involved!

If you have any other questions, feel free to contact us at MiramarBand@gmail.com or call us at 754-323-1421.